Genuine Auto Parts for your Genuine Success as a Daily Commuter at Suburban Ford of Waterford
Interested in the quality components that our service team use to work on your vehicle at scheduled maintenance appointments? Intrigued at the thought of completing a customized job or fun vehicle project on your own? Allow us to introduce you to the parts department here at Suburban Ford of Waterford, where orders can be placed on the quality genuine auto parts your vehicle requires!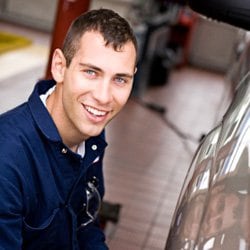 What are Genuine Auto Parts and What Purpose do they Serve?
Genuine auto parts come straight from the original equipment manufacturer to give you a verifiable guarantee that only the best quality is being installed and incorporated into the vehicle that you drive. This is important for a number of reasons. First, you sidestep the risks associated with aftermarket parts, which you may find to be counterfeit, clunky and sometimes dangerous when it comes to the overall performance of your vehicle. Secondly, you are wisely investing in the long-term success of your vehicle by installing the same very parts that were used upon its initial design. This helps to prevent damage and keep your vehicle running as fresh as new!
How Can I place an Order on Ford OEM Auto Parts?
Orders on genuine auto parts through our parts center are very straightforward and easy to process through with the help of our experts on hand. Simply browse our parts store  to get started with your request, including information on your vehicle and the specific part that you need. Our team will promptly get back to you when this part is confirmed and arrives, and we can even offer to install it for you here at our service center! Please be sure to also check out our parts specials for the latest deals you can apply prior to your order.