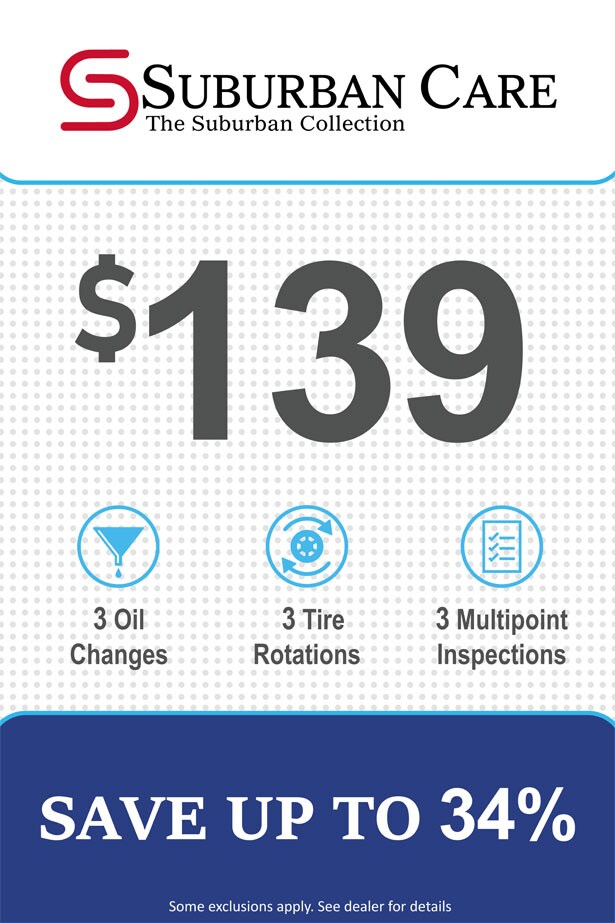 SUBURBAN CARE
AND SAVE ON YOUR VEHICLE MAINTENANCE


Service and Parts Coupons to Keep Costs Low
Our service center is here to help you discover affordable, high-quality auto service, and our service and parts specials ensure you can keep your costs to a minimum. We understand it can be challenging to keep up with your recommended service schedule when you can expect expensive costs at your average repair shop. With our service and parts deals, you can discover unique opportunities to save money while taking advantage of highly skilled service.
Savings for Routine Maintenance and Common Parts
When you look through our service and parts coupons, you will find opportunities to save for the services and parts you need. The best way to keep your vehicle in peak condition is with routine service and high-quality parts, and our specials help lower the cost barrier and help you stay up to date with your recommended service schedule.
Some of the services you may find deals for include:
Oil Change
Multipoint Inspection
Tire Rotation
Brake Service
Wheel Alignment
Deals for High-Quality Parts
The right parts can make all the difference in your vehicle's reliability and driving experience. We offer coupons for common parts but also provide high-quality auto parts that match your vehicle. With the right parts, you don't have to worry about a third-party replacement wearing out quickly or not matching your vehicle.
Some of the parts you may find deals for include:
Windshield Wipers
Tires
Brake Pads
Batteries
Headlights
Discover the Right Coupon for You
We often update our service and parts specials to ensure they remain fresh and relevant throughout the seasons. Even if you don't see the deal you were hoping for, you can check back in later to see if we offer it. Be sure to keep the expiration dates in mind so that you don't miss out on a coupon that's right for you.
If you have found a service or parts coupon that is right for you, contact our service team today.