2020 Ford EcoSport: Compact Size Meets Versatile Utility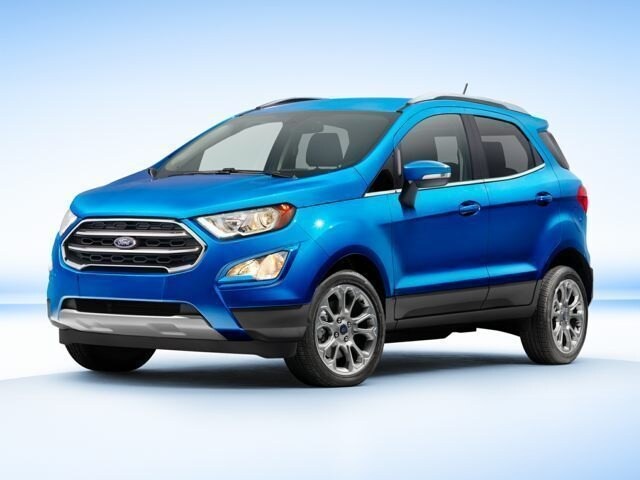 The new 2020 Ford EcoSport is the pint-size SUV that many car shoppers near West Bloomfield and Pontiac, MI are looking for. For many drivers, a full-size SUV is simply too much to deal with. However, they still want to get vehicles with impressive practicality.
Schedule A Test Drive Today!
That's where the new EcoSport comes in. This subcompact crossover is nimble, maneuverable, and easy to drive both in city and rural landscapes. Plus, it's small size and light weight yield good fuel efficiency. At the same time, the model's SUV proportions mean it's easy to load it up with cargo or passengers.
Versatile Design
With the 2020 EcoSport, Ford aimed to bring together the best of compact cars and SUVs. It's the kind of vehicle that is ready to accommodate that various demands of daily driving, whether you're commuting to work or moving bulky cargo.
The interior of the EcoSport offers a wide range of amenities and creature comforts. Bolstered seats with available leather upholstery keep passenger comfortable, while automatic climate control and available heated seats improve comfort even more.
There's plenty of utility in the EcoSport as well. Open up the swinging rear gate and you'll have access to commendable cargo space. Folding down the rear seats gives you 50 cubic feet of cargo space to work with.
Confident, Efficient Performance
Versatility is the centerpiece of the 2020 EcoSport, and that holds true when it comes to performance. Ford engineered the EcoSport to deliver dynamic, well-rounded capability that can help you navigate life's various road-going challenges with ease.
At the heart of the EcoSport is a pair of engine options. The base 1.0-liter EcoBoost engine uses turbocharging to balance responsive power with fuel-sipping efficiency. Meanwhile, the naturally-aspirated 2.0-liter four-cylinder engine ups output to 166 horsepower and 149 pound-feet of torque. Both powertrains come with a standard 6-speed SelectShift® Automatic transmission and Auto Start-Stop technology.
The new EcoSport is also available with Intelligent 4WD. It's a helpful system for navigating snowy roads near Auburn Hills and Commerce Township, improving traction when you need it most.
Connected Technology
The new 2020 EcoSport makes it easy to stay connected on the road. It's overflowing with helpful technology features that make driving as easy as ever.
Multimedia technology helps to enhance the experience inside the new 2020 EcoSport. Drivers will be happy to find out that the new model comes standard with Apple CarPlay and Android Auto compatibility. An available 8-inch touchscreen display offers simple access to your favorite applications. There's even an available 4G LTE built-in Wi-Fi system that can keep multiple devices connected during your journey.
Visit the 2020 EcoSport at Suburban Ford of Waterford
The new 2020 Ford EcoSport is ready to test drive at Suburban Ford of Waterford. If you're ready to test out the new model in a real-life driving environment, give us a call. We'll plan an appointment so that you can get to know Ford's popular subcompact crossover model.
Ford EcoSport vs. Honda HR-V
The new EcoSport has a distinct edge over the HR-V when it comes to power. Its available 2.0-liter four-cylinder engine generates a healthy 166 horsepower and 149 pound-feet of torque, while the HR-V is relegated to just 141 horsepower and 127 pound-feet of torque from its 1.8-liter four-cylinder engine.
The new EcoSport comes with available Start/Stop technology. This feature can shut off the engine during idling situations to in order to save fuel. When you release the brake, the engine will come back one. The Honda HR-V does not offer this feature.
If you're looking for all-wheel drive, both models are viable. Each offers all-wheel drive as an option and front-wheel drive standard.
Ford EcoSport vs. Mazda CX-3
Though the CX-3 offers more standard horsepower, the EcoSport pulls ahead with its available 2.0-liter four-cylinder engine. Where the CX-3 tops out at 148 horsepower, the EcoSport can reach up to 166 horsepower.
The EcoSport is the smart choice for drivers looking for more passenger space. Its 91.1 cubic feet of passenger space is impressive for the segment. By contrast, the CX-3 is limited to just 87.6 cubic feet of passenger space.
The EcoSport has a similar advantage when it comes to cargo space. Fold the rear seats down and you'll have up to 50 cubic feet of cargo space. The CX-3 has just 44.5 cubic feet of cargo space available.
Ford EcoSport vs. Chevrolet Trax
Despite compact stature, drivers still have high cargo capacity expectations for these crossovers. In this case, the EcoSport gets the advantage. It offers a full 50 cubic feet of cargo space with the second row of seats folded down. In the same scenario, the Trax has 48.4 cubic feet of cargo space.
The EcoSport gives you more powertrain options to choose from. With the Ford, you can pick between a 1.0-liter EcoBoost engine and an 2.0-liter four-cylinder engine. The Trax offers just one engine -- the 1.4-liter turbocharged ECOTEC engine.
One way these two models are similar is with their respective drivetrain options. Both models start out with standard front-wheel drive and add all-wheel drive as an option.